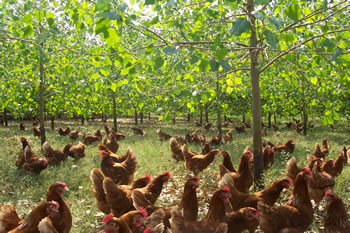 When planting trees on our Woodland Farms we aim to achieve "long term environmental gain" that's why we listen to expert advice from the Woodland Trust and our contractors. Both have provided crucial knowledge on the type of trees to plant and maintenance techniques.
Before planting takes place, careful consideration is given to the species best suited for each individual site. Fast-growing poplars are mixed with species such as oak, ash, alder, field maple, wild cherry, spindle, privet, hornbeam, hawthorn and blackthorn. The poplars are included in the mix as they provide shade and shelter for the "flock" as the slower growing native trees develop.
Where practical the perimeter of each woodland area is planted with shrubs such as hawthorn, hazel and holly to create a graded edge; this approach tries to ensure maximum wildlife benefit can be gained from the planting.
We would like to thank the Woodland Trust and our contractors for all their help and advice. Not only are our hens benefiting from the woodland environment but we are also encouraging biodiversity across the country.